Management
Chairman Emeritus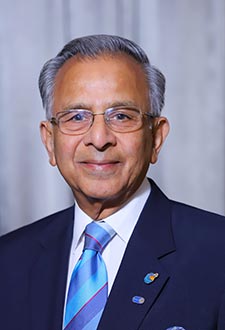 Mr. R.K. Saboo, Chairman Emeritus
He is a Bachelor of Science from St. Xavier's College, Kolkata. He has received "Padma Shri" Award by the President of India in 2006; Degree of Doctor of Letters (Honoris Causa) by H. N. Bahuguna Garhwal University, Srinagar, Uttarakhand in 2005, Degree of Doctor of Literature (Honoris Causa) by Panjab University in 2007 and Honoris Causa D.Litt. by IIS University, Jaipur in 2013.
He is Past President, PHD Chamber of Commerce and Industry; Member, Managing Committee of Federation of Indian Chambers of Commerce and Industry (FICCI); Member, Board of Governors of Indian Institute of Management Tiruchirappalli. He is founder Chairman of CII (Northern region) and Chairman of All India Manufacturers' Organisation (Delhi and Punjab Chapter).
He has been a Fellow on the Senate of Punjab University. He is Chairman of Bharatiya Vidya Bhavan Chandigarh Kendra. He is member of Administrator's Advisory Council of Chandigarh Administration. He is President of Managing Committee of Ramakrishna Mission Ashrama, Chandigarh & Nominated as Institute Body Member of the Postgraduate Institute of Medical Education & Research, Chandigarh in 2020.
Having joined Rotary Club of Chandigarh in 1961, he became Rotary International President in 1991-92. He was instrumental in initiating The Rotary Foundation's leading program "Rotary Peace Centers" in 1996. He has been involved in Polio Eradication from 1981 onwards and has been recipient of PolioPlus Pioneer Award. Also been awarded Nigeria Polio Eradication Champion 2020.
Since 1998, he and his wife Usha have been serving hands-on as volunteers and started the medical missions to Africa and other countries. In addition, they have also been doing similar medical missions to the backward areas of India, at least one each year, since 2005.
He has been and continues to be active in the Child Welfare Council, Rotary Blood Bank Resource Centre and Society for the Rehabilitation of the Mentally Challenged (SOREM). Mr. Saboo has been responsible in initiating in Chandigarh many projects including 'Mithai for Jawans' during Diwali, Gift of Life, Heartline & cremation ground toilet project. In 2020, he initiated to adopt organ donation as one of the service project to save many lives.
Board of Directors
Mr.Yashovardhan Saboo, Chairman and Managing Director
Mr.Yashovardhan Saboo is B.A. (Hons.) and MBA from IIM, Ahmedabad. He started his career in 1980 as Director of Groz-Beckert Saboo Limited, Chandigarh and was the Managing Director of the company from 1991 to 1993. In 1983, he set up Kamla Dials and Devices Limited (now KDDL Limited) as Managing Director of the Company. In 2003, he set up Ethos. In 2006, he set up the Precision Stamping division, EIGEN Engineering, at Bangalore. He has been conferred with "UdyogRatna" Award from PHDCCI in 2005 for valuable contribution to the economic development of Himachal Pradesh.
Mrs. Ranjana Agarwal
Mrs Ranjana Agarwal is a Director of our company since 2013. She is a Bachelor of Economics (Hons.) and a Fellow Member of the Institute of Chartered Accountants of India. She is also on the board of many reputed listed companies and chairs a number of key committees.
She founded Vaish & Associates, Chartered Accountants in 1985 and has more than 35 years of experience in audit, tax, succession planning and business valuations. She was also a partner in Deloitte Haskins & Sells until 2000.
She is the recipient of the Indira Gandhi Priyadarshini Award for professional excellence and entrepreneurship and was National President of FICCI FLO. Currently she Co Chairs the women directors programme in FICCI FLO and the Corporate Affairs committee in PHD Chamber of Commerce & Industry. She is also involved with a number of NGOs working in the field of education and health.
Mr. Praveen Gupta
Mr. Praveen Gupta is a Director of the company since 2014. He is a B.Tech (Electrical Engineering) from IIT, Kanpur and an MBA from IIM, Ahmedabad. He has 40 years of experience at senior levels in global and large Indian auto component and industrial products companies. In these leadership roles, he has successfully managed rapid growth and industrial turnarounds. He currently advises and supports organizations to improve their operational performance.
Mr. Anil Khanna
Mr. Anil Khanna is a Director of our company since 2004. He is a Bachelor of Arts (Economics, Mathematics), Chartered Accountant and FCA DISA. He is in practice and has over 37 years of post-qualification experience. He is a Certified Arbitrator by the Institute of Chartered Accountants of India and is also certified as Business Counsellor by Entrepreneur Development Institute (EDI), Ahmedabad. He has successfully completed the certificate course on Forensic Accounting and Fraud Detection conducted by the Digital Accounting and Assurance Board (DAAB) of the Institute of Chartered Accountants of India.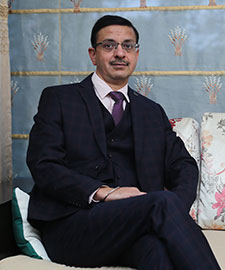 Mr. Sanjeev Masown
Mr. Sanjeev Masown is an Executive Director of our company since 2016, in addition to his role as Chief Financial Officer (CFO) since 2011. He is a Qualified CMA and Fellow Member of the Institute of Cost Accountants of India and also a Commerce Post Graduate. He is a certified Six Sigma Green Belt holder. He has 30 years of experience in manufacturing companies listed in the Stock Exchange.
Mr. Jai Vardhan Saboo
Mr. Jai Vardhan Saboo is a Promoter Director of our company since 2017. He serves as the Chief Executive Officer of Harmonia Holdings Group LLC, a leading systems integrator and information technology services company in the United States. Mr. Saboo also has various other business interests in the US and is an active angel investor in startups around the world. He is an active philanthropist and serves on the national board for Pratham USA. He has over 30 years of international business experience in multiple industries and is an alumnus of the Kellogg School of Management at Northwestern University and the Wharton School at the University of Pennsylvania.
Mr.Sanjiv Sachar
Mr. Sachar retired on October 31, 2016 as the Senior Partner of Egon Zehnder, the world's largest privately held executive search firm. Sanjiv set up the Egon Zehnder practice in India in 1995 and has played a key role in establishing the firm as a market leader in the executive search space across various industry segments. For 5 years Sanjiv was the India Country Head. In addition, he was a core member of the Firm's Global Financial Services and Industrial Practice and led the CFO practice in India. In 1985, Sanjiv co-founded a Chartered Accountancy and Management Consulting firm, Sachar Vasudeva & Associates. He also co-founded an Executive Search Firm, Direct Impact. Sanjiv started his corporate career in the finance function with SRF Nippondenso (now known as Denso), one of the world's largest manufacturers of starter motors. Post qualifying as a Chartered Accountant in 1982, Sanjiv started his career with the management consulting division of A F Ferguson (now part of Deloitte).
Sanjiv was Government of India's nominee for five years on the first board constituted of Indian Institute of Management, Rohtak. In addition, he was a member of the Strategic Advisory Committee of the Board on HR for Bank of Baroda. He was an Independent Director on the board of Hdfc Bank for 5 years(2018-2023). He is currently an Independent Director on the board of Info Edge (India) Limited and KDDL Chandigarh (holding company of Ethos Watches). In addition, Sanjiv is a partner in the Delhi Chapter of Social Venture Partners, a global philanthropic network. Sanjiv has a Bachelor degree (Economic Honours) from Delhi University Hindu College (1978) and is a Fellow Member of the Institute of Chartered Accountants of India (1982).
Mr. Nagarajan Subramanian
He graduated in Mechanical Engineering ( Madras University, 1978 ) and did post-graduate Diploma in Management from IIM, Ahmedabad ( 1980 ). He has worked in various positions in sales and marketing, business development and strategic planning with 3 blue-chip companies ( Voltas Limited; Titan Industries Ltd and Walt Disney India Pvt. Ltd ). He set up the highly successful Retail chain "World of Titan" and made it an Indian benchmark for successful franchising of a retail concept.
He left Walt Disney India P. Ltd as the Country Director for Disney Consumer Products in 1995 and set up en theos consulting to advise lifestyle retail businesses in scaling up profitably. He also represented Warner Bros Consumer Products as their India representative for over 10 years, leveraging the skillsets in retailing; franchising and licensing. Some of the marquee clients include Mattel Toys Ltd., Ethos Ltd., Fossil India P Ltd., Triumph international, Warner Bros. Consumer Products; Baggit India P Ltd., just to name a few.
Presently, he is an Independent Director on the Board of Ethos Limited. He is a life-time member of Centre for Independent Directors ( IICA ).
Mrs. Neelima Tripathi
She is B.A (Hons.) Economics from Sri Ram College of Commerce, qualified Chartered Accountant and Law Graduate. She is registered with the Bar Council of Delhi and a practising Senior Advocate. She has over 25 years of experience in handling Civil Suits, Commercial Courts matters, Arbitrations, Writ Petitions, Corporate Commercial Transactions, Real Estate Advisory, Criminal matters, Constitutional issues, Appearances at Tribunals and Courts. She has also taught as Adjunct Professor at Jindal Global Law University and is also engaged with two NGOs working for women empowerment. Presently, She is an Independent Director on the Board of Ethos Limited.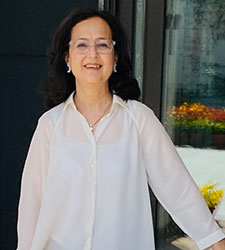 Mrs. Anuradha Saboo
Mrs. Anuradha Saboo is a graduate with a Bachelor's degree in Science from Bombay University. For several years, she headed the Packaging Division of KDDL LIMITED; during this tenure, she enrolled several export customers. Thereafter, when the ETHOS retail chain was established under KDDL, her responsibilities changed to take charge of the functions of marketing,training, and customer experience at ETHOS, which she managed for several years. She has excellent insight into the world of luxury and Swiss watches. She has a working knowledge of both French and German languages, which has been very useful in the business of the company. She has continued to assist the Chairman and Managing Director, Mr. Yasho Saboo, during his international visits and events for international partners in Europe and India.
Senior Management
Mr. V. Srinivasan, Business Head, Eigen
Mr. Srinivasan is a graduate in Mechanical Engineering from Anna University and has undergone an Executive Education Program at IIM, Bangalore and is a Six Sigma Black Belt. He has 30 years of experience in the Automotive Industry, proficiently managing product development, tooling, manufacturing operations and business management. He was heading precision fine blanked parts business for Tube Investments of India previously and contributed for its significant growth.
As a Business Head of Eigen Engineering, he is responsible for providing strategic direction as well as drive the execution of growth strategy for the company.
Mr. B Satish, Business Head, Watch Components
Mr. B. Satish is an MBA graduate.
He possesses 29 years of experience across Manufacturing & Horological industry. He has been associated with KDDL Limited from last 26 years and has significantly contributed to its momentous growth. Businesses are scaling new heights under his able leadership.
Mr. Xavier Jourdain, Managing Director, Estima
Mr. Xavier Jourdain is a Switzerland native.
He holds a Bachelor degree in Mechanical Engineering & C.A.S in Management and Strategy.
He completed his International Marketing study at top-ranked IMD Management School.
He holds over 20 years of rich experience in Horological industry and has held the position of CEO at Favre-Leuba& COO at Victorinox-Swiss Army watch during this journey.
Mr. Pranav Saboo, Chief Executive Officer, Ethos Watch Boutique
Mr. Pranav Saboo, Chief Executive Officer of Ethos Watch Boutiques, is a highly ambitious second-generation entrepreneur. Pranav started his entrepreneurial journey at the age of 22 by setting up Dream Digital Technology Limited, which now serves as a digital marketing and technology solutions provider to some of the largest MNCs in India.
His passion for the digital world has led the digital initiative for Ethoswatches.com, which transformed Ethos into a truly omni-channel business. His strategic thinking has persuaded many luxury watch brands to expand their footprint in India with Ethos. Under his leadership, Ethos has increased its presence significantly in markets across India.
In the 9 year stint with Ethos till date, his insight into digital marketing has given Ethos Watches a competitive edge to lead in this segment. He advocates great team spirit & nurtures the human assets of the organization.
Mr.Torsten Buchwald, International Sales Advisor, Eigen Engineering
Mr.Torsten Buchwald is a German native and has earned a Bachelor in Mechanical Engineering.
He has 25 years of experience in automotive, marine, aerospace and energy markets, which includes, more than 10 years of work experience in USA and Mexico.
He has been CEO at Proficient earlier and trusted advisor with experience in manufacturing, sales & business development, and finance in various organisations.
He is a Managing Partner of I-CI Global Services LLC, McAllen, Texas. He is Member of the Board of various companies and non-profit organisations across the globe.